In our experience, your instincts are
Although education related to the topic of tongue-ties is improving, the impact of such a restriction is often excused or even ignored. With feeding difficulties, for instance, it might be said that the child is "easily distractible" or is "a picky eater." With breastfeeding difficulties, the mother might be told that "It is supposed to hurt for six weeks," or "All babies are gassy and fussy or spit up," or "Your baby is just a lazy nurser." Such advice is often well-intentioned and meant to be encouraging, but it ignores the problem or fails to even recognize the problem at all.
The problem may be a tongue-tie.
On both a personal and professional level, Dr. Baxter's life has been deeply impacted by tongue-ties. He had a tongue-tie that went undiagnosed into adulthood, and all three of his daughters had tongue-ties. Some researchers estimate the prevalence of tongue-tie to be between 4% and 10% of the population, but the actual number may be higher because most studies don't take into account posterior tongue-tie, which is a more difficult diagnosis. The real number of babies or children that are affected by tongue-tie is likely closer to 1 in 4.
A tongue-tie can be the hidden reason behind nursing difficulties in babies, feeding problems in toddlers, speech issues in children, and even headaches or neck pain in adults. Are tongue-ties the cause of all the world's ills? No. But it is too often overlooked, misdiagnosed, and written off by many healthcare providers.
Immediate Attention
We know what it's like to struggle with nursing or feeding issues. So, we accept same-day appointments and, if we see a problem, can often address it during your first visit.
Thorough Evaluations
The process of diagnosing a tongue-tie involves taking an in-depth history, completing in-person pretreatment assessments, and examining the mouth, head, and neck structures. We cover it all.
Comprehensive Support
Because tongue-ties are the root cause of so many frustrating secondary symptoms, we partner with a team of specialists, including lactation consultants, speech therapists, and chiropractors, to provide the comprehensive care your family deserves.
Lasting Solutions
Often, a snip or a clip with scissors leaves thick tissue behind. With our innovative technique, we remove all of the restriction quickly, easily, and as gently as possible. Plus, in the rare chance that it grows back within a year, we'll fix it again, free!
Does your child have a tongue- or lip-tie?
Here's how we'll help you get the answers you both deserve.
Dr. Baxter is the founder and owner of the Alabama Tongue-Tie Center. He is an internationally recognized speaker on tongue-ties, instructor of the comprehensive course Tongue-Tied Academy, and author of the best-selling book Tongue-Tied: How a Tiny String Under the Tongue Impacts Nursing, Speech, Feeding, and More.
He is a board-certified pediatric dentist, Diplomate of the American Board of Laser Surgery, and Fellow of the American Academy of Pediatric Dentistry (FAAPD).
Dr. Baxter attended the University of Alabama at Birmingham School of Dentistry where he graduated at the top of his class. In order to receive a specialty certification in pediatric dentistry, Dr. Baxter attended the residency program at Nationwide Children's Hospital in Columbus, OH.
Dr. Baxter enjoys spending time with his wife, Tara, who is a nurse practitioner, and his three girls, Hannah, Noelle, and Molly. And, since he had a tongue-tie himself, and all three of his daughters were treated for tongue- and lip-ties at birth, this field is a personal one.
Patients have travelled from all over the nation and around the world to receive Dr. Baxter's care.
View Dr. Baxter's Awards & Recognitions
2021: Fellow of the American Academy of Pediatric Dentistry
2021: Awarded Kumar Patel Prize in Laser Surgery
2018: ICAP Award for Clinical Excellence
2018: Achieved Board Certification in Laser Surgery 
2016: Healthcare Professional of the Year, Shelby County
2016: Small Business of the Year, Shelby County
2015: Achieved Board Certification in Pediatric Dentistry 
2013: Resident Recognition Award from the AAPD
2012: Academy of Dental Materials Award for research
2012: AAPD Predoctoral Student Award 
2012: Leon M. Schneyer Award for highest GPA 
2012: Inducted into OKU National Dental Honor Society
2011: Awarded first place at AADR Research Competition
McKenzie M.
After months of struggling with breastfeeding, we were both beyond frustrated and dreading every feeding. I called the center and they got me in two days later – the staff was extremely friendly and Dr. Baxter was absolutely incredible. He listened to my concerns attentively, validated my feelings and provided a thorough examination and diagnosis. Each day since the procedure, feeds have been easier and four days out, things are nearly "normal!"
Kaley M.
Dr. Baxter performed a tongue- and lip-tie revision on my son when he was 8 weeks old. I was very close to quitting breastfeeding all together but it resolved any problems we had with nursing and made our life so much easier. I was very pleased with the process, atmosphere and staff.
Victoria P.
Dr. Baxter and his staff did a phenomenal job with my daughter's tongue and tie releases! We drove 13+ hours just to meet with him. He made us understand that we weren't alone or crazy. Our symptoms were because of real ties! He empathized with us. He taught us everything we needed to be aware of. He prayed with us. He improved her life in less than 5 minutes. He was the BEST!
A comprehensive, team approach
Dr. Baxter partners with other specialists to provide problem-solving care to parents and their children.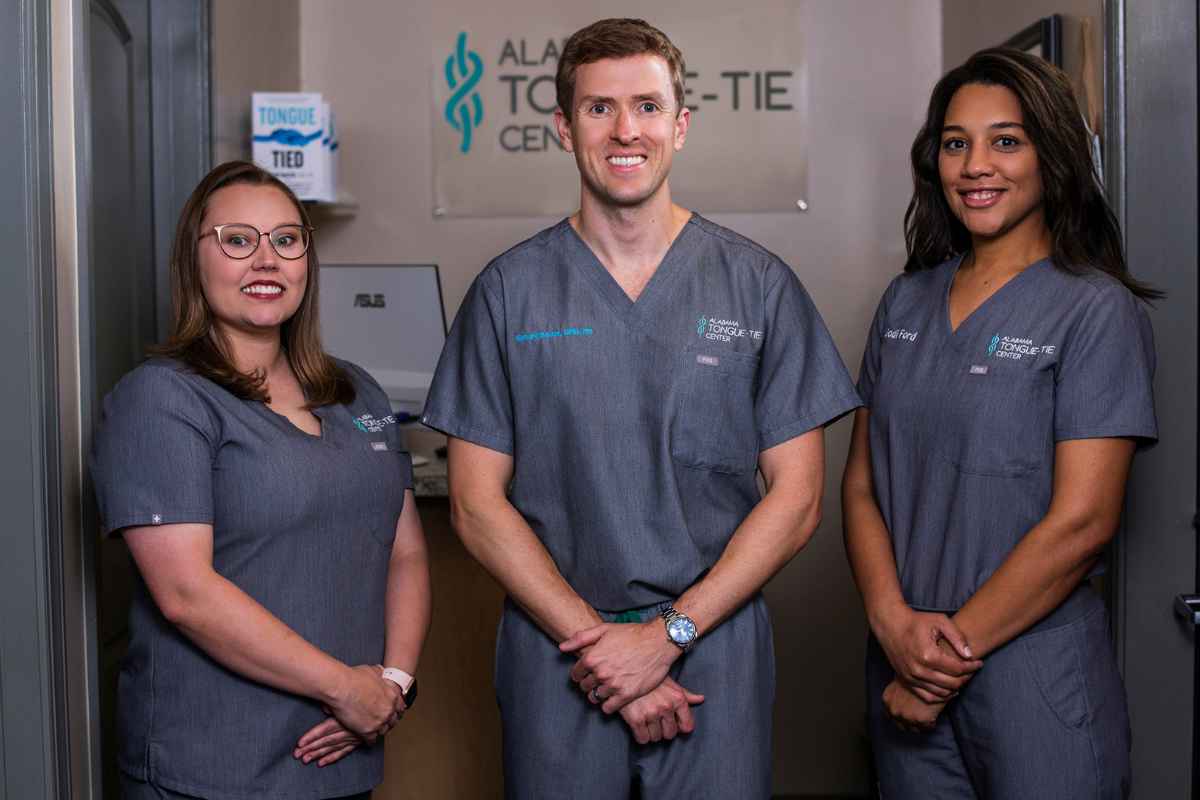 Your family will be making a difference around the world, too.
A significant portion of our practice's profits go directly to support projects in our local community and abroad. All of the proceeds from the Tongue-Tied book, Tongue-Tied Academy, and the in-person course are donated. We support mission projects like clean water wells around the world, at-risk women and children in our community, orphan ministry, and many more.
Trust your gut when something feels "off."
Help your child fully thrive.
Hours
Monday - Friday 8:00 a.m. - 4:30 p.m.
During business hours, please call
(205) 419-4333
to schedule a consult.